Welcome! In this article, we will go through Polynom's core fundamentals and get you onboard.
We'll cover just the basics:
Minimum requirements
Where can I download Polynom?
First run with the Polynom Wizard
Joining a Polynom server
Backing up your Graphatar™
Important topics we won't cover in this Quick Start Guide (but recommend you read up on in our Wiki):
Detailed import and export of Graphatars
Adding and editing Social Encryption™ keys
How permissions work from a user's perspective


Polynom uses cutting-edge post-quantum cryptography and thus requires reasonably up-to-date operating systems to function.
Currently, Polynom is Windows 10+ and Android 9+ only. iOS and other clients are coming soon.
WARNING: Our current Public Beta 1 (v0.12.14) client installer is less than ideal, and it may reboot your system without warning as it installs some dependencies. Please save your work and close all unnecessary applications before installing Polynom. Public Beta 2 will have a new and improved installer without these issues.
On very new Windows systems, S Mode may be on by default, preventing you from installing Polynom until you disable S Mode for the installation. If you encounter an S Mode error, please visit
Switching out of S Mode in Windows for instructions relevant to your version of Windows.


Go to https://polynom.app and download the client for your operating system.


After installing Polynom, double-click on the desktop icon to start the app. On the first run, you will be shown the Wizard where you can create your Graphatar (identity) and then join a server.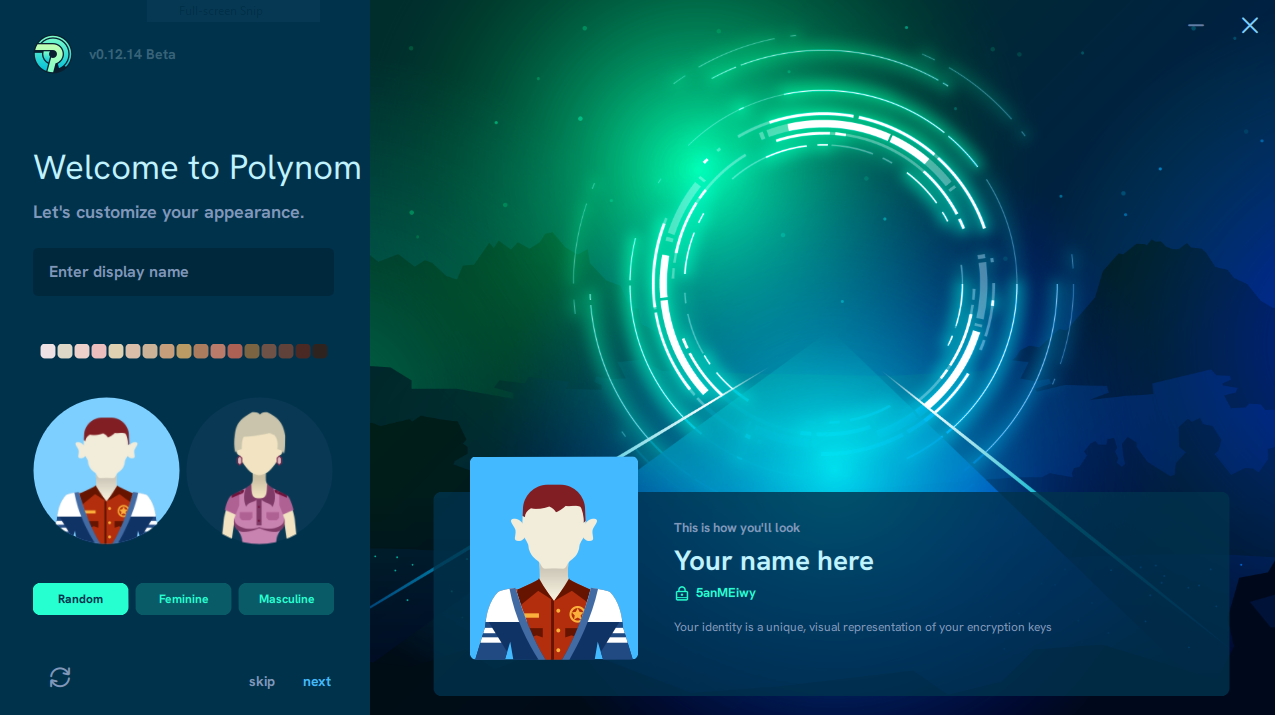 Enter your user name;
Choose among the options, then use the refresh icon to roll new Graphatars;
Take your time! There is no back button;
When you find a Graphatar you like, click next;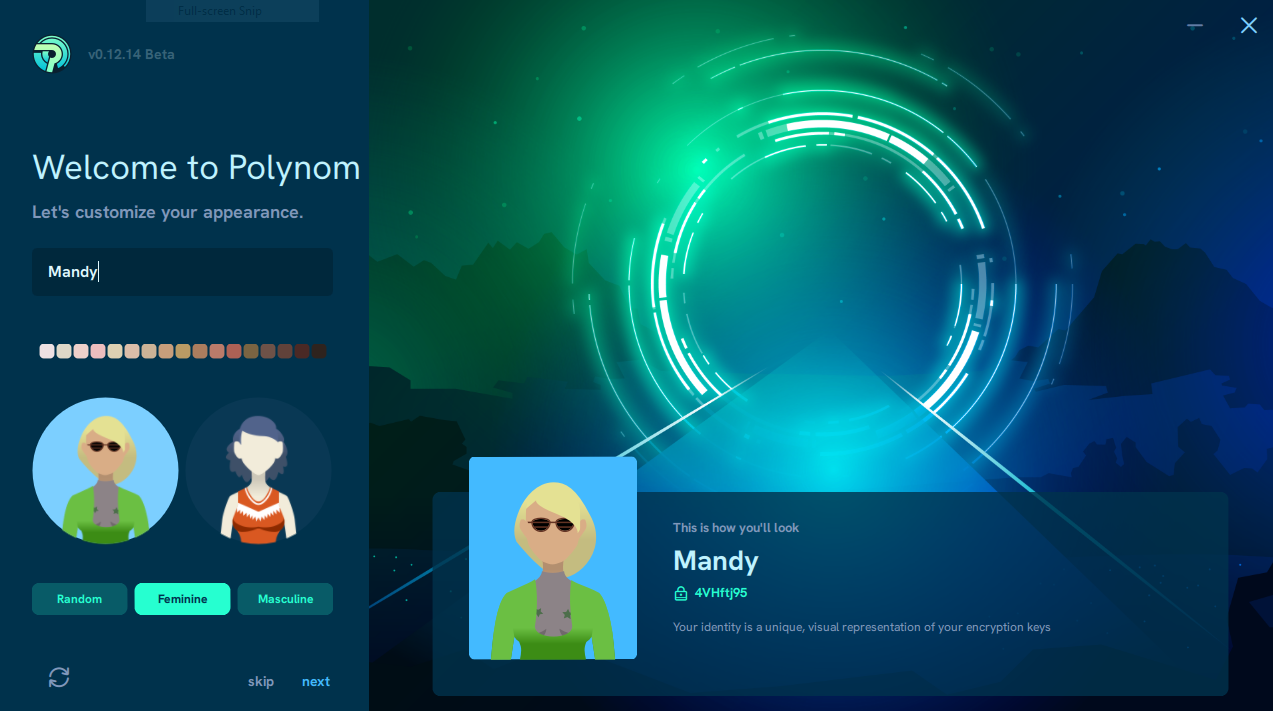 You can now choose some theme colors, and/or click next;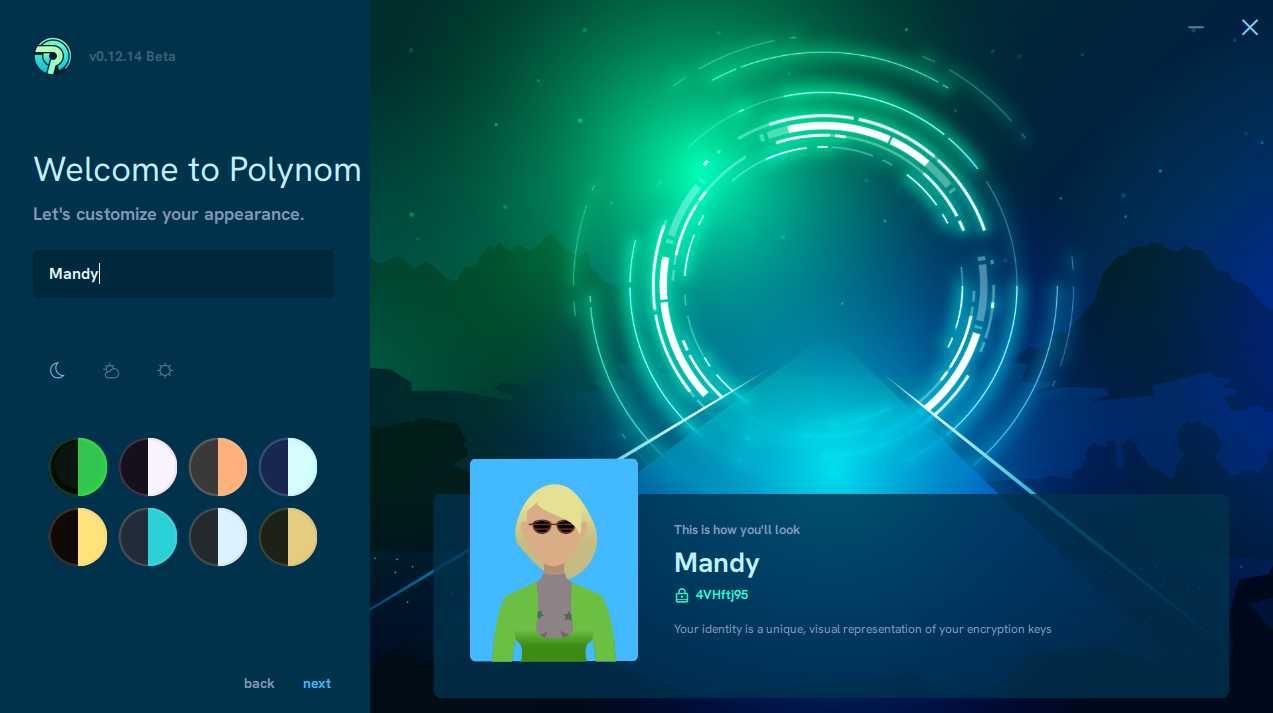 You will see that the public.polynom.app read-only server is preselected for you;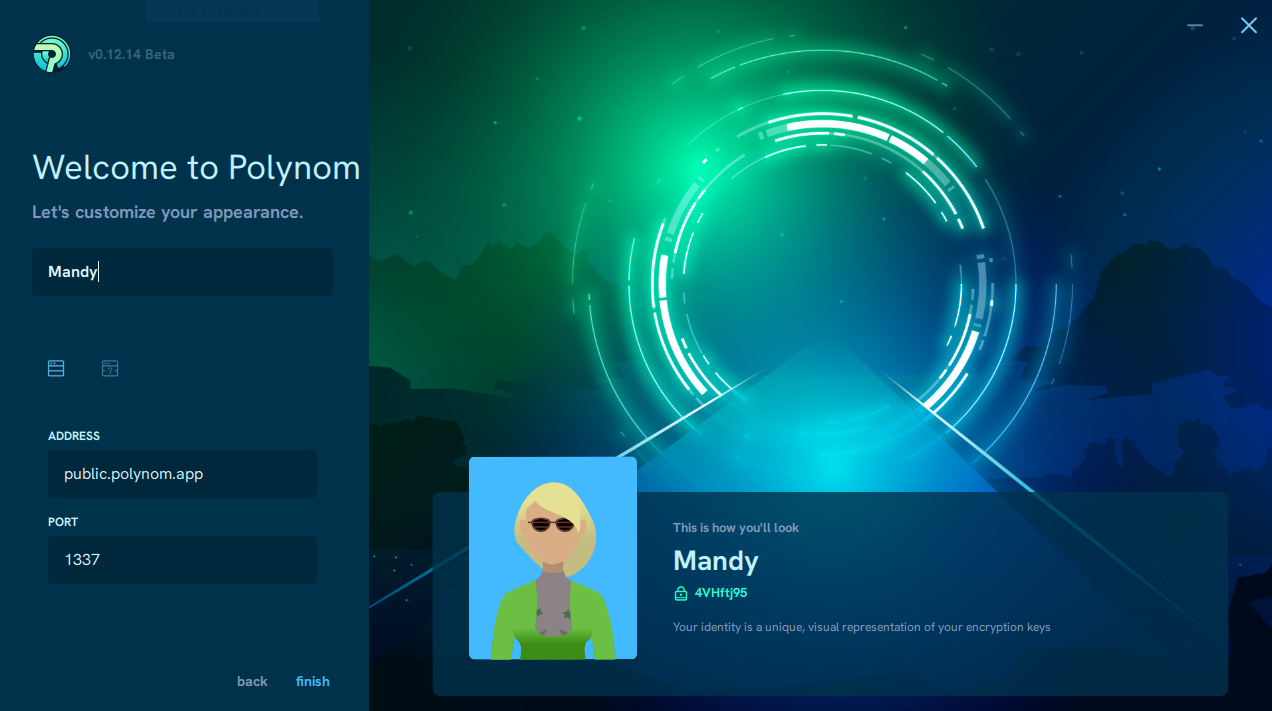 Choose this read-only server if you do not have a private server address to add manually;
Click finish;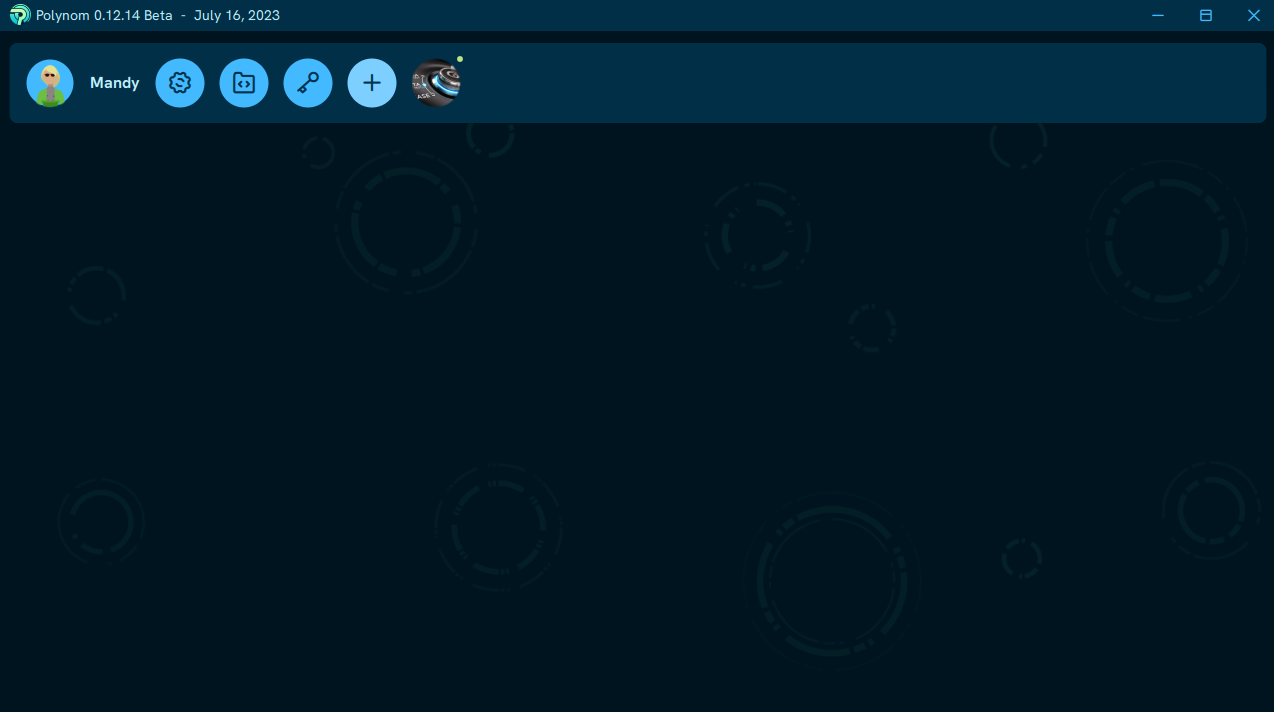 You are now in the app itself and need to click on the server's icon in the top toolbar to see it;
Navigate around the read-only server to familiarize yourself with Polynom!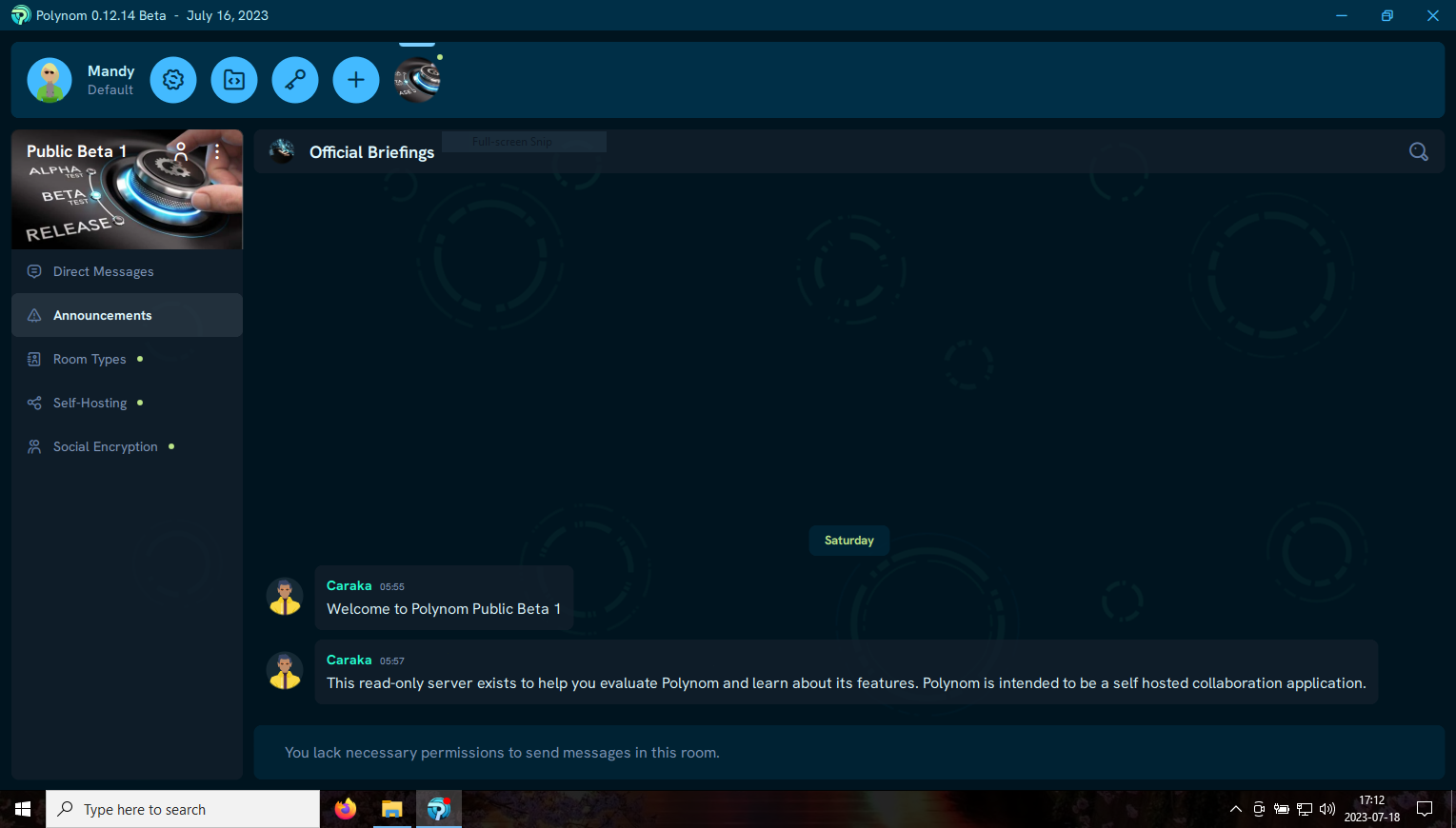 The public.polynom.app server is read-only and is for demonstration purposes. Polynom is meant to be self-hosted, so it may take some time before a lot of private servers become available for use.
To join a privately run server:
Click the + icon on the toolbar;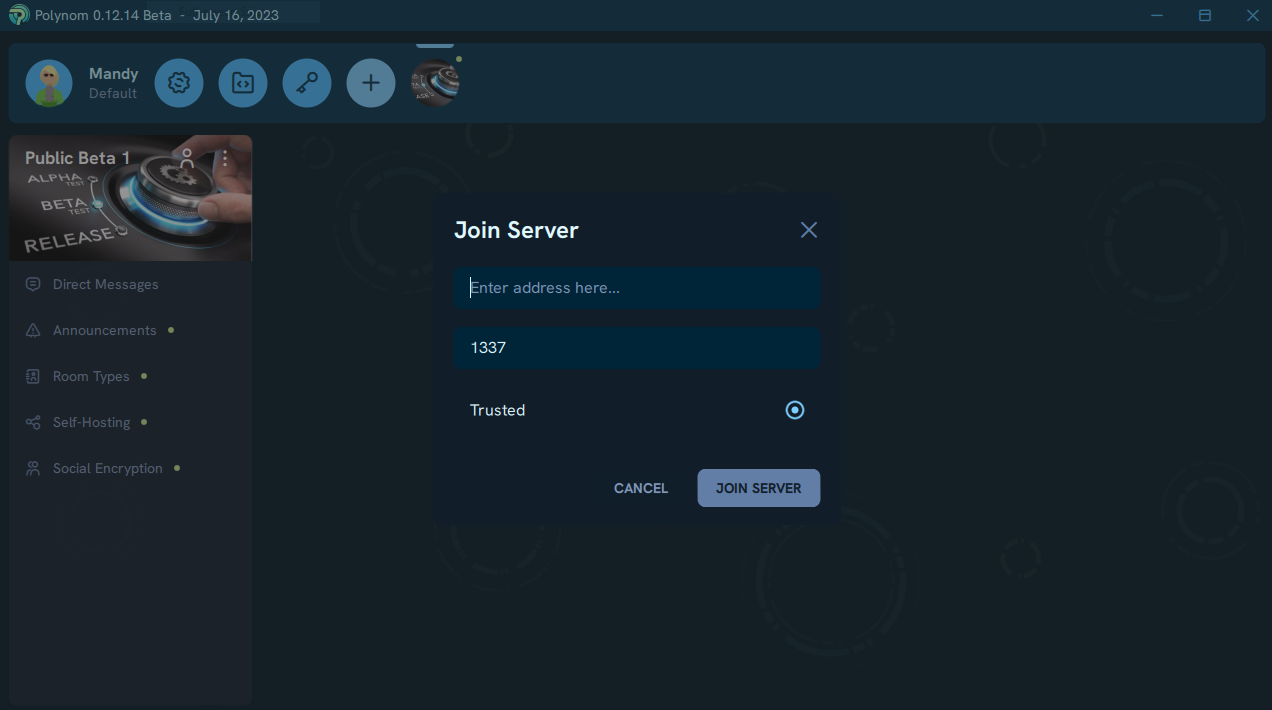 Enter the URL of the server and if necessary, edit the port number;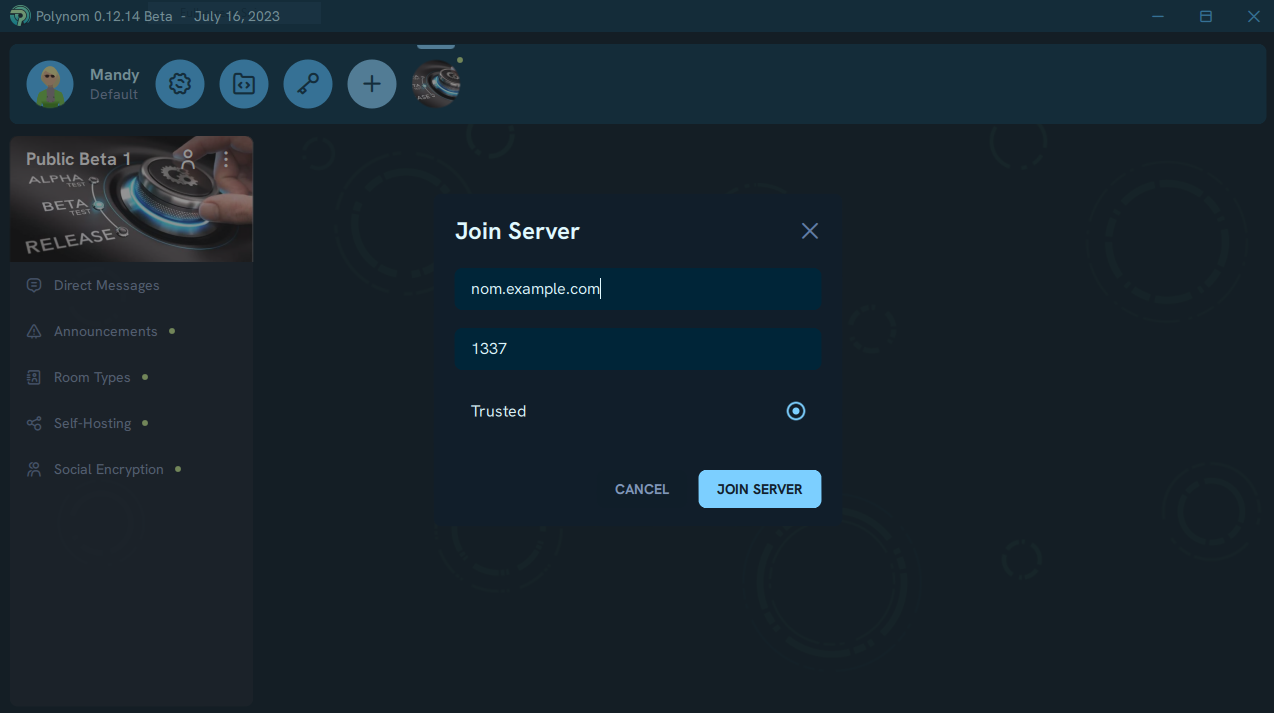 Click "Join Server" and its icon will appear on the toolbar;
Select that icon to view the new server.


It is very important that you export your Graphatar and protect it with a strong password.
Click on the Settings gear icon in the tool bar;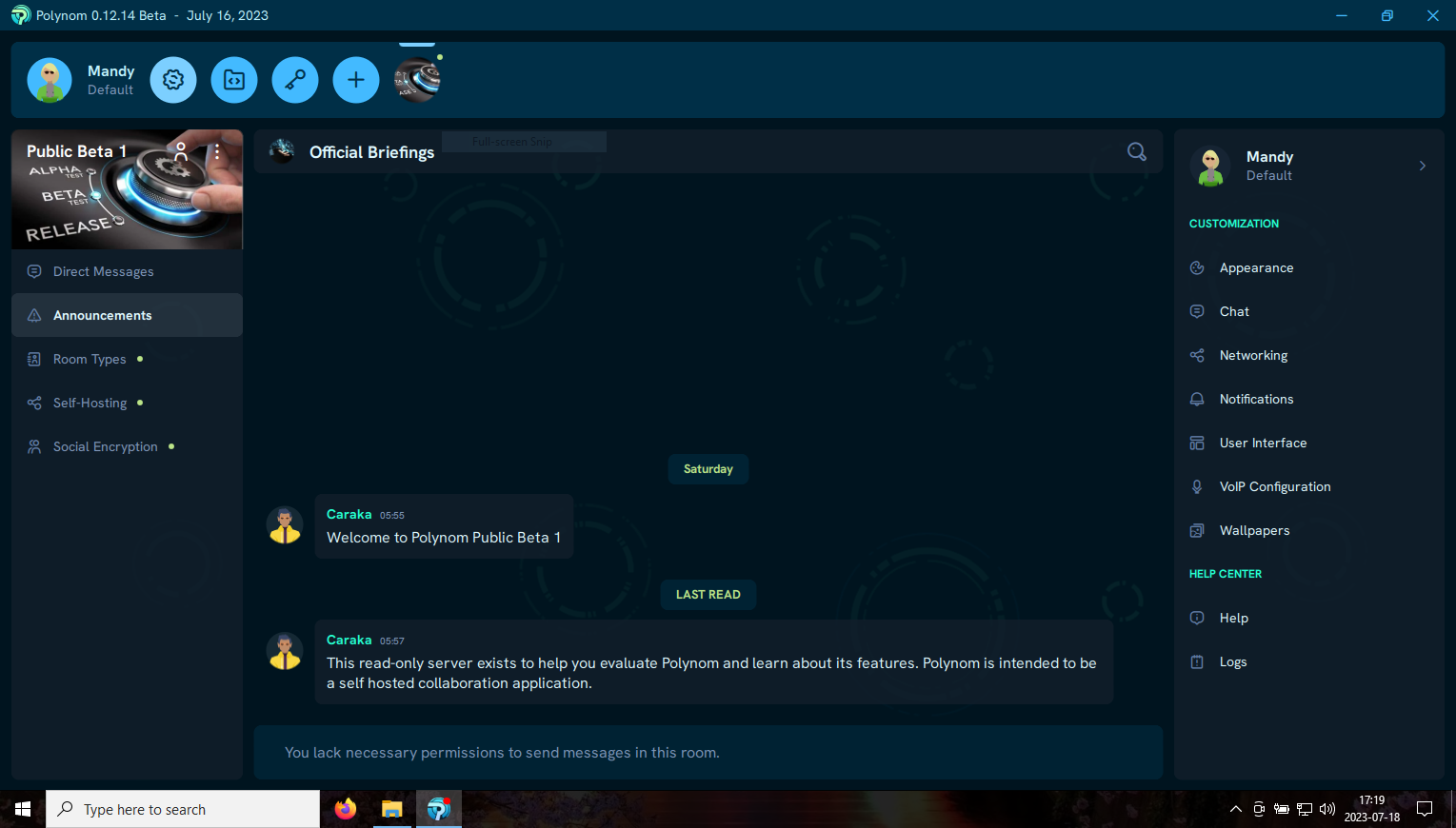 In the Settings pane, click on your Graphatar to reveal Manage Identities;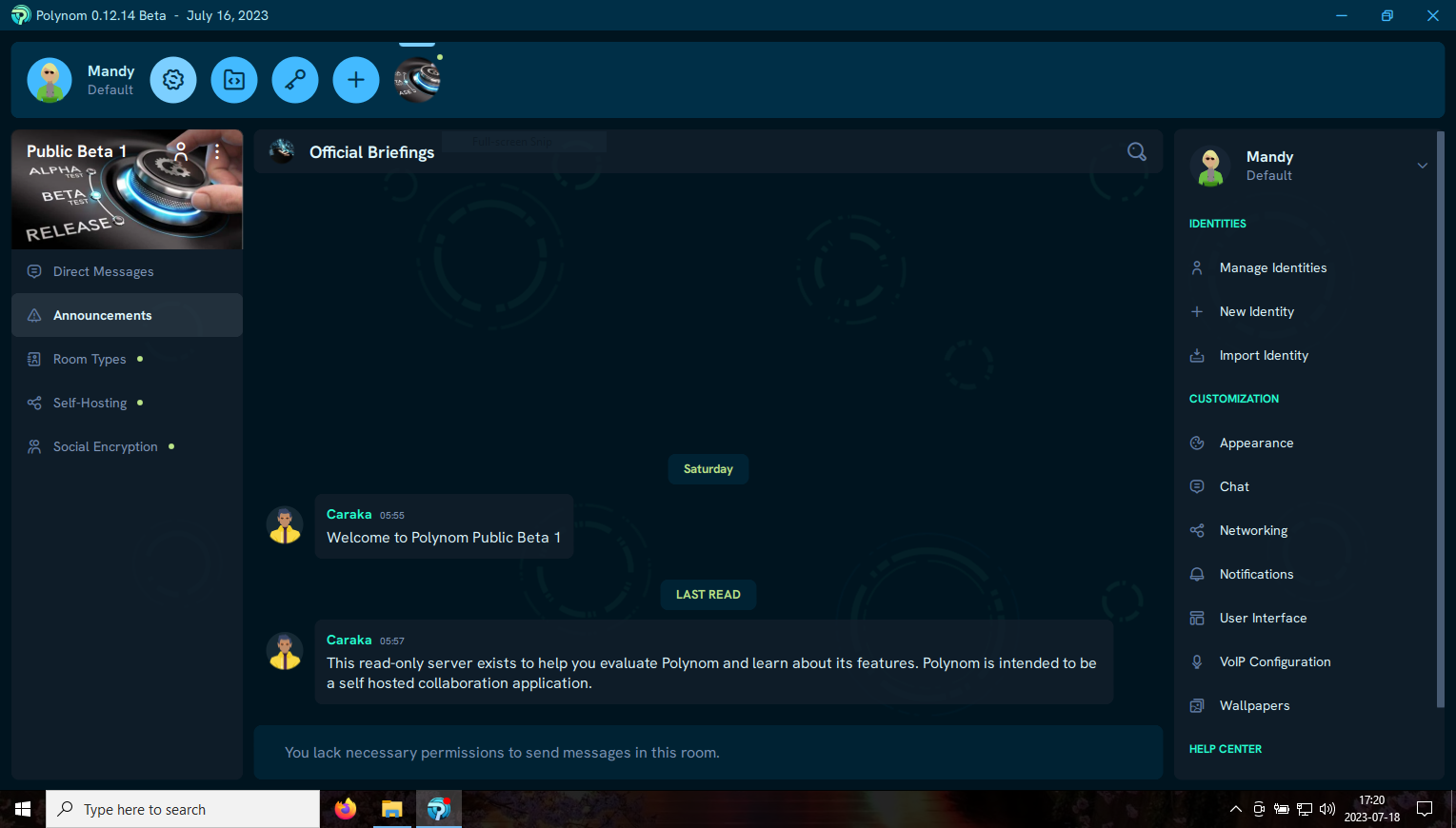 Select Manage Identies and then right-click on the Graphatar you wish to export;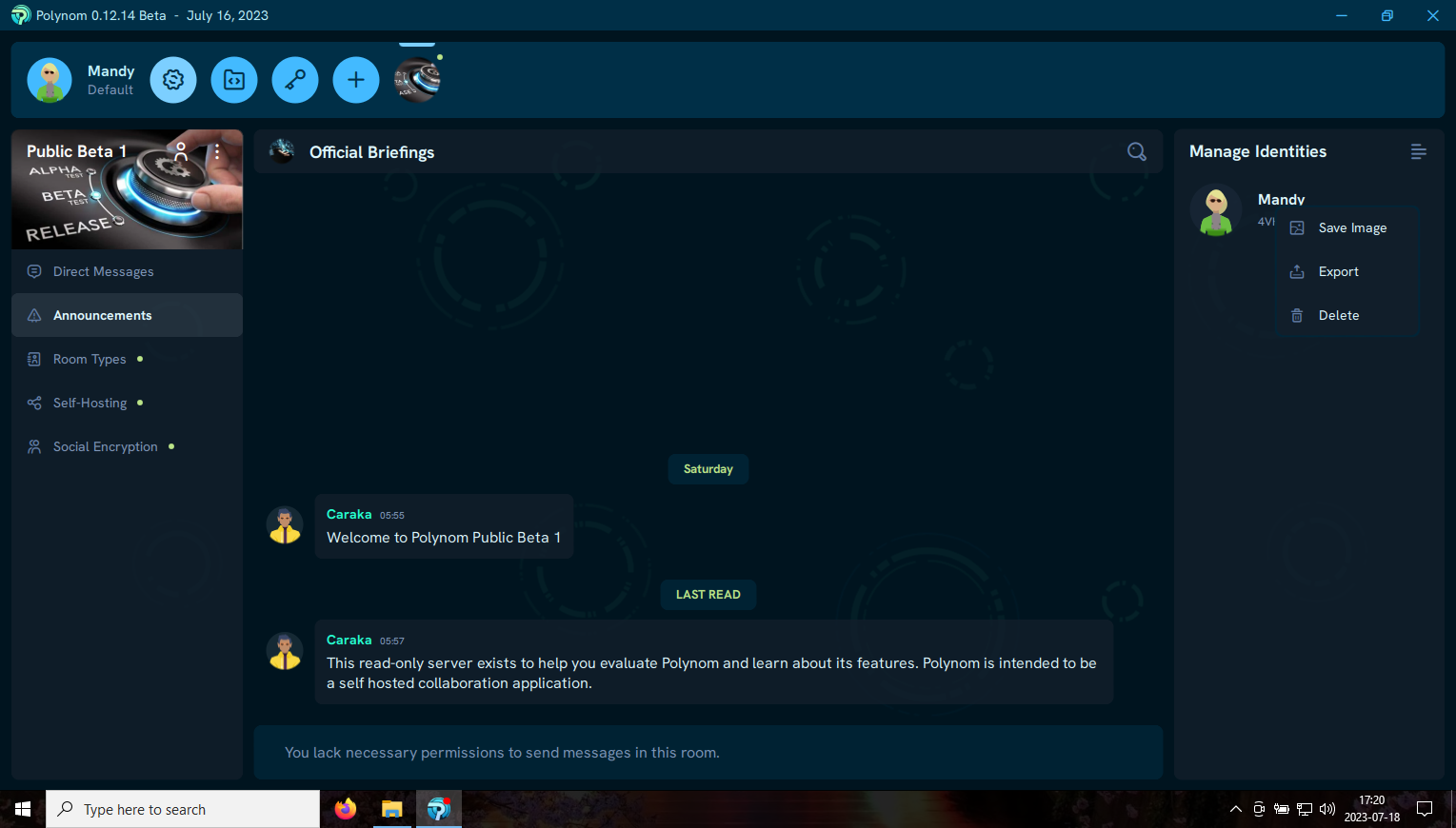 In the context menu, choose Export to open the export dialog box;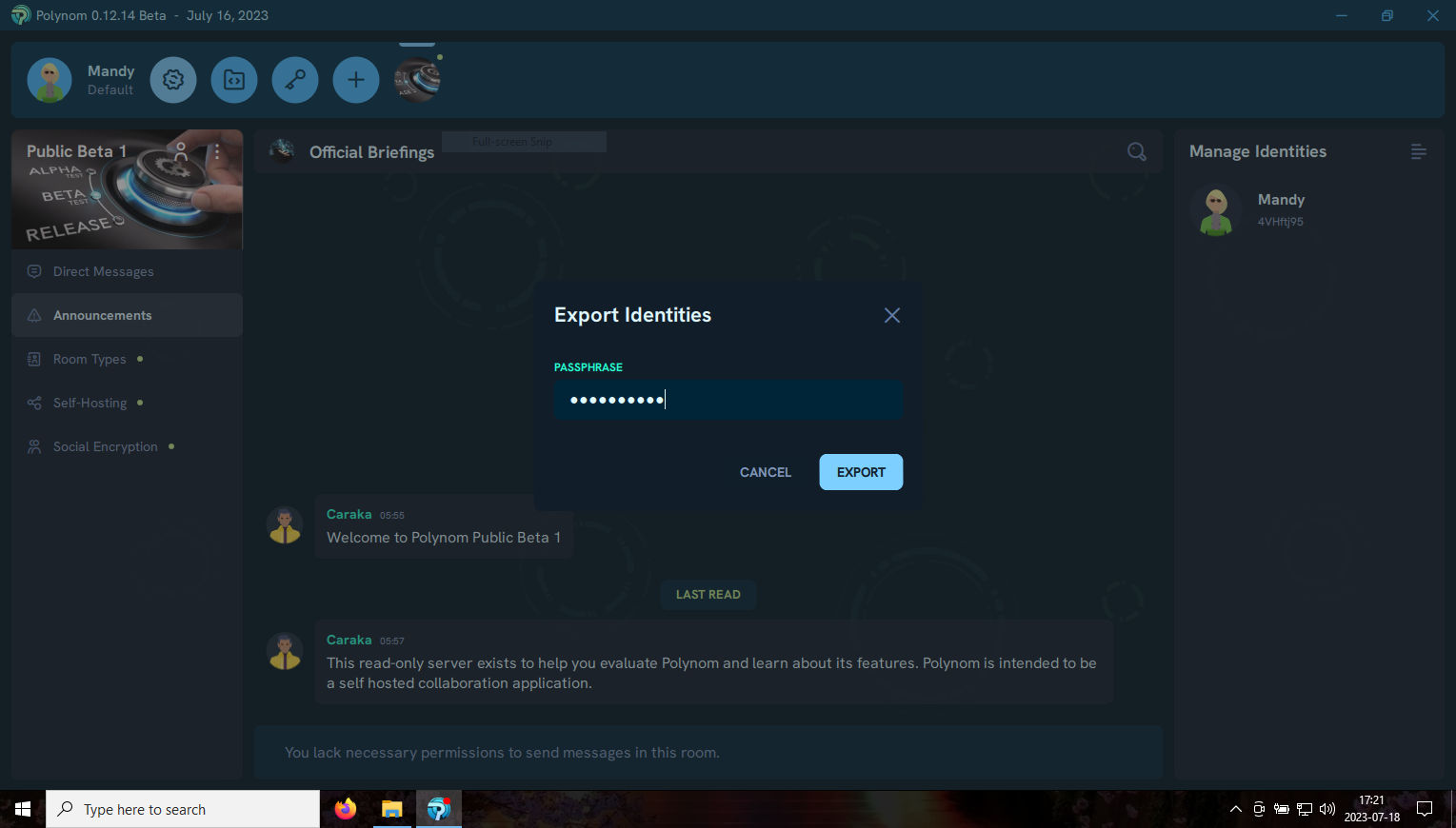 Enter a strong password and store it safely, then click Export;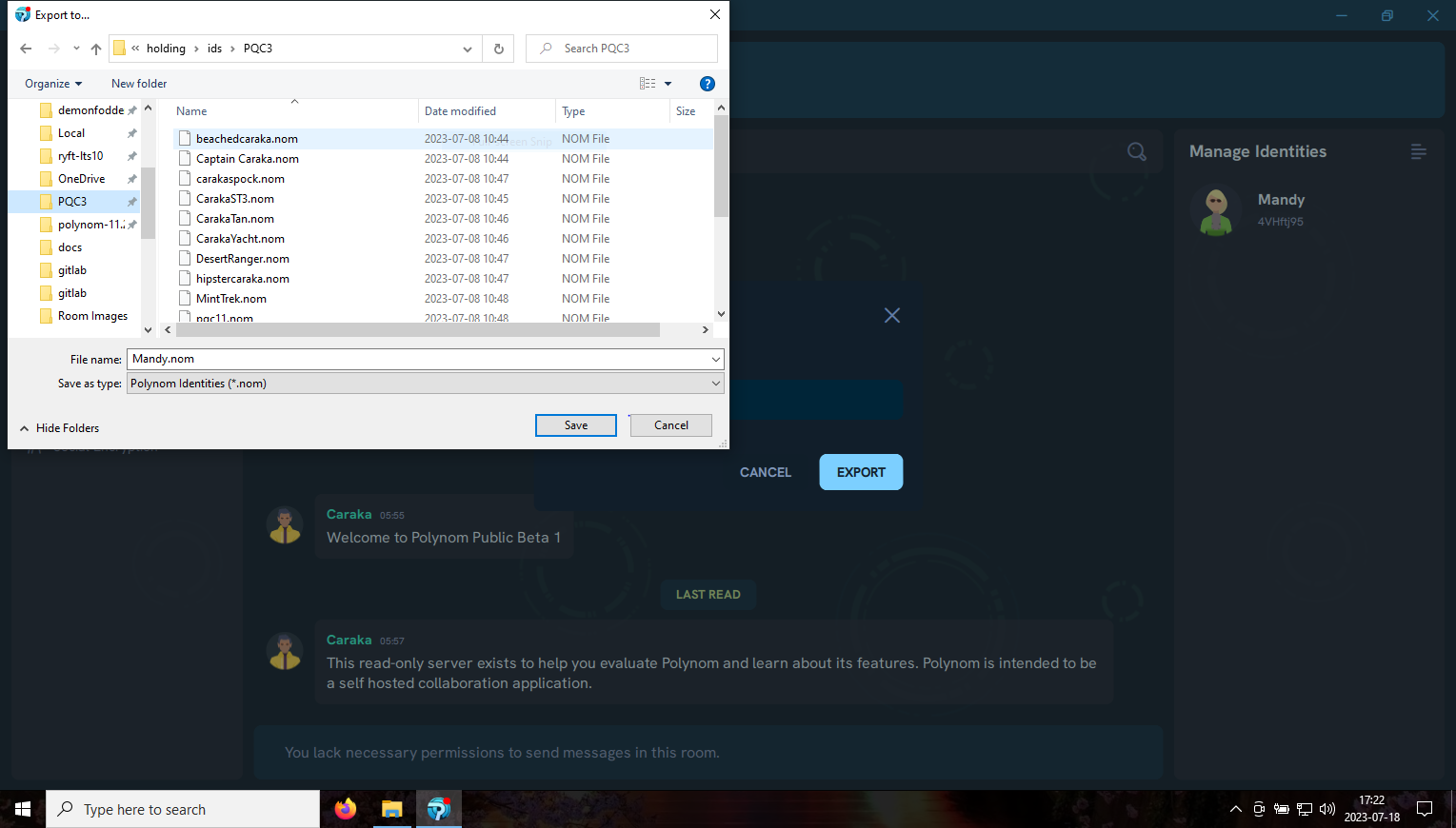 Save the User.nom file some place safe.
You've done it!